Australasia Strata Insights 2022
Introduction — the report and why it is so relevant
In mid-June, SCA and the UNSW City Futures Research Centre released the Australasian Strata Insights Report 2022.
Drawn from land titles data, Census data and data specifically sourced from the strata industry, the report provided a comprehensive picture of the strata industry in Australia and New Zealand.
Until the release of the Australasian Strata Insights report series, the Australian strata data was fragmented, held by state and territory agencies with varying methods for recording data, and by multiple companies who service the sector.
The report makes it an invaluable tool for policy makers instigating changes to the framework for the strata industry.
The report identifies the number of strata properties, their value, and the professionals employed to serve them. It also provides information of the demographics of private apartment residents, as almost all private apartments are strata titled.
Overall strata growth
The highlights that stood out most from the report at a national level, were that strata-living continues its charge as a highly favoured living option for Australians as:
• There has been a 7 per cent growth in the number of strata-titled lots in Australia in the last two years.
• There are now more than 3 million strata and communitytitled lots (units, townhouses etc.) in Australia.
• Each Australian state and territory, along with NZ, experienced growth in strata lots over the last two years.
• More than 200,000 new lots (units, townhouses etc.) were created in the last two years.
These four statistics (Figure 1) point to a thriving and growing sector that is undertaking rapid growth over the last decade, and reflect population growth, as well as government policies, to promote growth within existing urban corridors, by growing up, instead of out.
Australia's strata buildings — a tipping point between new and old?
Half (50%) of Australia's strata building stock was built before the year 2000.
Strata-title property ownership was introduced in Australia in the 1960s. Strata developments have grown from an initial concentration in a few small pockets of urban areas, to become an important feature of the housing landscape across Australia and New Zealand.
The majority of the developments that were put up in the years preceding the year 2000 are still in operation today, and even though many of their foundations may be incredibly solid, electrical, cabling, lighting, heating and cooling infrastructure has moved forward at pace.
The knowledge that half of the building stock is more than 23 years old, and the technological and engineering advances that have come during that time, should give us an indication of the works that need to be undertaken to keep all Australians living in strata up to date with their dayto-day needs.
The size and economic contribution of the strata sector
The report estimates that the strata industry directly employs over 10,000 people and creates more than $7bn in economic activity annually.
The strata industry is a major contributor to the Australian economy across many sectors. The services required by strata communities mean that plumbers, gardeners and electricians are the three most common trades engaged in strata communities.
Lawyers, engineers and valuers in the professional services field are engaged most often, as strata communities engage with professionals to meet their regulatory and compliance requirements, among other services that ensure their community functions effectively. See Figure 2.
The demographics of strata — price point and amenity combine
Half (48%) of people living in private apartments in Australia are 20-39 years old.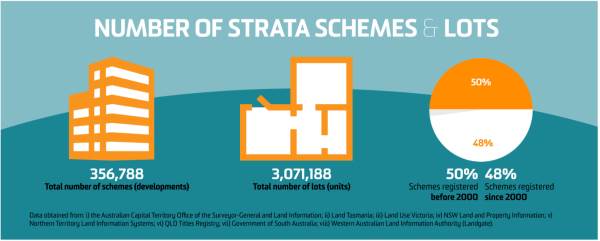 Figure 1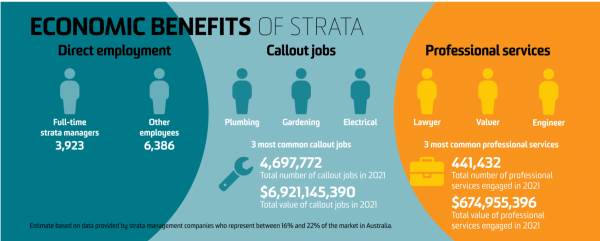 Figure 2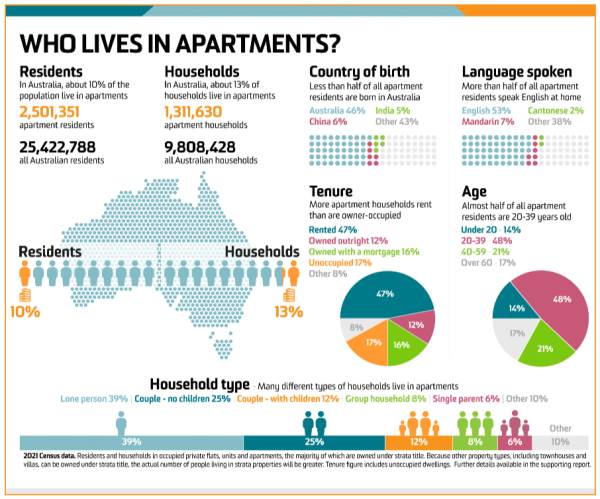 The demographic break down of people living in strata should not be underestimated. People within this demographic are drawn to strata for two major reasons: amenity and often an affordable price point.
Whether as a buyer, or as a tenant, those aged 20–39 recognise the value of strata-titled property's proximity to the places they work, shop and seek entertainment. As potential buyers, a lower entry point and the existence of this amenity works together to make an attractive option as a first, or second home.
Jurisdiction-by-jurisdiction quick highlights
• NSW recently became the first state to surpass one million strata lots with a 9 per cent growth over 2 years
• The ACT had the highest growth rate in the last 2 years with a 19 per cent increase in lots since 2020
• New Zealand has 164,246 lots across 15,180 schemes, somewhere between SA and WA in terms of size
• Vic has potentially more than 1 in 4 live in strata
• Qld has more than $216bn insured valued of schemes
• There are more than 250,000 strata lots in WA
• SA has more than 23,000 schemes registered
• Tas has more than $16bn dollars of insured value in strata schemes
• Nearly 1 in 5 people in NT live in strata-titled properties
Overview and key takeaways
SCA Australasia President, Chris Duggan, summarised the report and its highlights in emphatic fashion, saying that the strata-living juggernaut continues to gather pace across Australia and New Zealand.
"In 2023, people value access to work, shopping, entertainment and recreational amenity more than any other time in our history, and strata living is leading the charge to fulfilling these needs."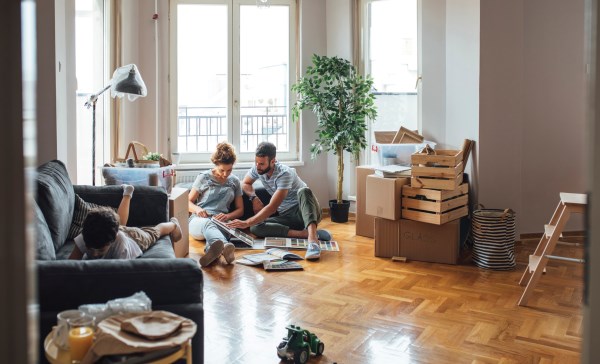 "Strata living serves as both a preferred housing choice for discerning owners wanting best in class location and amenity and also as a cost effective entry point to the market, whether rental or ownership, providing immediate answers to the cost of living crisis and housing affordability as more stock enters the market."
"For the millions of Australians who currently live in strata, and for the millions who will be fresh entrants in the coming decades, we need to ensure better planning, better building quality and better governing regulation to improve quality of living."
"Governments and the property industry must come together to coordinate policy solutions that take into account these factors, as well as ageing building stock, the current construction slowdown, population growth and housing shortages, and we will be out there on the front foot with the data and insights from this report."
The project was led by Professor Hazel Easthope with Danielle Hynes, Dr Yi Lu and Reg Wade from UNSW's City Futures Research Centre as project team members, and was funded by the Strata Community Association.
To find more information about the report, please visit UNSW City Futures Research Centre1, or visit research with the Strata Community Association.2
1 Hazel Easthope, Danielle Hynes, Yi Lu, Reg Wade, Australasian Strata Insights 2022, City Futures Research Centre, UNSW, cityfutures.ada.unsw.edu.au/2022-australasian-strata-insights
2 Strata Community Association (SCA), Research, strata.community/research