Strata Insurance, Made Simple
Strata insurance can be a complex area to understand. You may get asked what it covers, and what other insurance policies owners need to protect their assets. Strata insurance policies generally cover material damage due to an insured peril to the building structure/s, fixed plant, machinery and underground services.
The policy also generally extends to provide cover for proprietors' fixtures, fittings and improvements which form part of the building. These items include built-in kitchen appliances, air conditioners, cupboards, basins, baths, showers, spas and pools in common areas.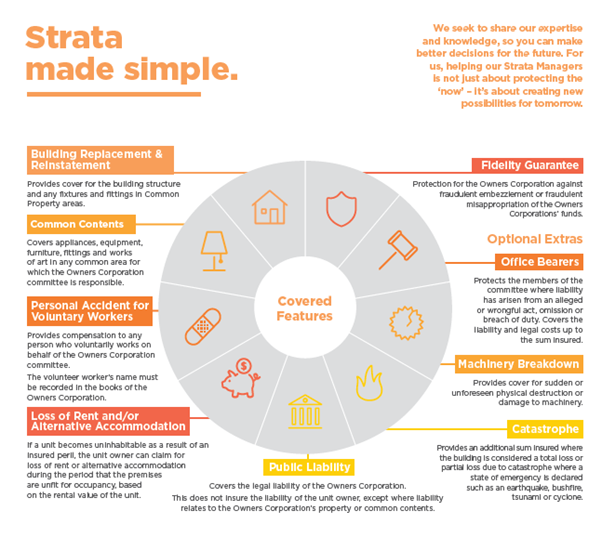 The role of a broker
When purchasing insurance, people have two options: buy it directly or organise it through a broker.
Today's complex strata environment includes demanding tasks and legal requirements to keep track of. Strata Managers benefit from using services professional strata insurance brokers.
The right broker can make all the difference, and provide optimal value to your clients by:
Developing a strong relationship – understanding your needs as a Strata Manager, and offering personal advice tailored to your clients' needs.
Offering multiple quotes, comparisons & recommendations – sourcing multiple quotes from various insurers at policy inception and upon renewal and detailing the differences in cover and benefits on offer, including offers not available to the general public.
Leading effective claims management services – advocating to ensure your clients receive the best outcome via mediation and when required, escalation to the Australian Financial Complaints Authority (AFCA).
The difference between the Authorised Representative (AR model) and Distributor model
Strata Managers and their staff have two choices to provide a financial service – become an AR or Distributor. The table below highlights and compares the advantages of becoming an AR compared to a Distributor.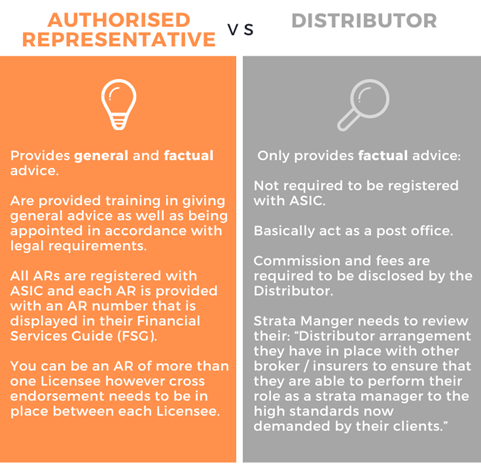 Lia de Sousa │ General Manager Strata | National
Level 5, 90 Collins Street, Melbourne VIC 3000 │ www.whitbread.com.au
D: 03 8646 0239 M: 0419 880 606 F: 03 8646 0220