Stoppage Time: A Play-By-Play Analysis of SCA (Vic) Advocacy at the 2022 State Election
With the state election drawing to a close at the same time Australia contests the World Cup this Saturday, let's take some stoppage time to reflect on the highlights of SCA (Vic)'s advocacy campaign in 2022, and look at what the future may hold for Victoria's $343 billion strata sector in the next term of government.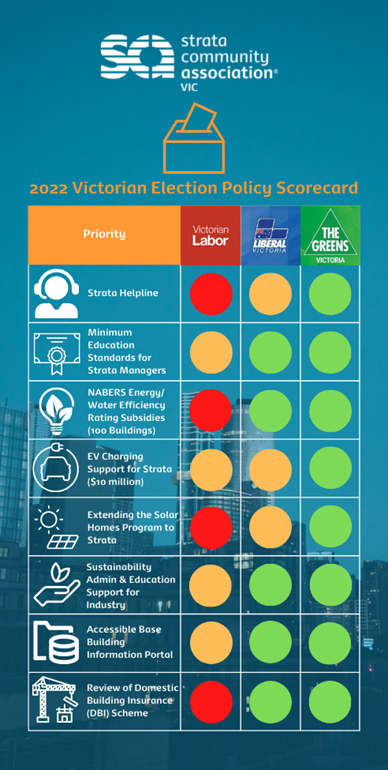 Where Are We Now?
Our three key priorities ahead of the 2022 state election include:
Supporting and Protecting Strata Consumers
Creating Smarter, Greener and More Liveable Strata Communities
Combatting the High Prevalence of Building Defects in Strata
Throughout 2022, SCA (Vic) has advocated our priorities across the aisle ahead of the election and with a diversity of stakeholders, including:
Liaising with government agencies and departments, including Cladding Safety Victoria (CSV), Consumer Affairs Victoria (CAV), Department of Environment, Land, Water and Planning (DELWP) and Sustainability Victoria (SV).
Engaging with media on our priorities throughout the campaign.
It is encouraging that critical in-principle support and commitments to policy recommendations and our priorities were achieved in our liaison with two out of three major parties.
This was especially concentrated between the Liberal Party and the Greens, as reflected in our election policy scorecard.
The Greens have provided in-principle support, or outright commitment to all of our election priorities in their formal response to SCA (Vic).
The Liberal-led Coalition has indicated their commitment to investigating or implementing minimum education standards for Victorian strata managers, NABERS rating subsidies, and establishing a base building information portal.
The Coalition has also committed to funding for:
Community electric vehicle (EV) charging
Subsidies for rooftop solar and battery installation (doubled for rental properties), and
Increased funding and resources for the Victorian Civil & Administrative Tribunal (VCAT)
Meaningful consultation with industry will provide the key for these, and similar commitments to be delivered for the benefit of strata communities.
Labor's response to SCA (Vic)'s election priorities did not provide in-principle support or commitments to specific policy proposals.
Forthcoming legislative and regulatory reviews, or internal decision making within government agencies and departments were deferred to for several recommendations, namely the strata helpline and minimum education standards.
Labor's publicly stated positions on sustainability in strata have largely referred to new developments and standardising solar and EV charging infrastructure in these, while retrofitting of existing buildings and properties has not been substantially addressed.
The support of at least two major parties to our non-partisan platform indicates a welcome recognition of the sector by a greater plurality of our elected representatives.
The Road Ahead
With a real possibility of a minority government being elected, our proposals may also be realistically implemented or investigated in the next four years by way of further coordination between, and with, the major parties.
Irrespective of this Saturday's election result, SCA (Vic) are ready to work alongside a Labor or Coalition Government to deliver positive outcomes for our industry, and for strata communities across our state over the next four years.
The end of the campaign marks the beginning of building upon strong working relationships established across government, owner and resident groups to advocate for policies of significant merit and tangible value to the sector from 2023 onwards.