Electrifying your apartment building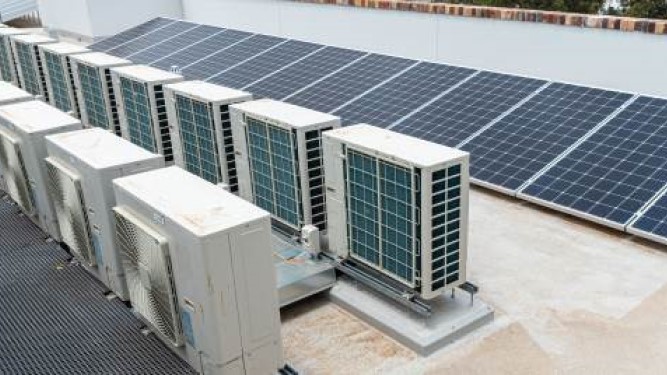 Over the last year or so as interest in sustainability for strata has grown through the installation of solar panels and reviews of the potential to retrofit EV Charging solutions, another important change happening is in an increasing desire to move away from fossil fuel solutions such as gas.
Active is seeing this trend nationally in greenfield developments design where all electric building services are now the standard. This is driven in a large part through the influence of the Green Building Council of Australia, with the need for new construction to achieve a 5 or 6 Star GreenStar rating, and also buildings looking to achieve and maintain, after occupancy, Climate Active Carbon Neutral status or NABERS ratings.
Electrification is not only a sustainable solution, but it also has the capacity to add capital value to your asset. An Active client in an existing building in Melbourne is currently pursuing Solar EV Charging to every car space and the replacement of their gas hot water service with an electric heat pump. Beyond their environmental concerns, the chief driver of this project is to make their building more attractive against the new developments going up around them that have all electric services.
In many buildings, common property operations may have little consumption of fossil fuels such as gas, with the exceptions being gas requirements in some centralised air-conditioning solutions. The major common property impact for most buildings will be the consumption of gas in centralised hot water solutions and swimming pools. In the remainder of the building, the use of gas will likely be found in the operation of individual apartment hot water services and cook tops.
In these individual apartment scenarios, the decision to move away from gas to an all-electric solution will rest with Lot Owners, working with the Owners Corporation on any approvals. For most apartments, disconnection of the gas supply is a relatively simple and straightforward exercise. Converting those appliances impacted by this to electric solutions is a much more complex activity.
Electric cooking solutions such as induction and many instantaneous electric hot water solutions need a larger power supply arrangement than is present in most apartments. Simply put many of these require 3-Phase supply and most apartments are single phase. This requires an update to the apartment switchboards to have larger circuit breakers to prevent overload as well as rewiring the apartment to deliver supply to the installation areas. The cost of this is likely to be recovered over the years of operation as the appliances will be more efficient and electrical costs are lower than gas.
With larger common property solutions for gas centralised hot water, the option is to convert the gas system to an electric heat pump solution, which works on a similar principle to split system air-conditioning.
Heat Pump solutions can generally be installed without any requirement for plumbing changes, so the swap over is straightforward. Heat pump solutions will be larger and heavier than the existing gas solution, so roof space and building construction strength are important considerations.
Although heat pumps are more efficient and cheaper to operate, the upfront capital expense of a plant can be substantial, particularly when considering low Global Warning Potential refrigerant solutions. Looking at the timing of you conversion to be in line with the life expectancy of your current gas plant is sensible if the solution is to be self-funded.
Successful electrification comes from being well prepared up front.
Understanding the current fossil fuel supplies into the building is critical in your electrification journey. How many gas supplies come into your building and what do they supply? Is it just cooktops or hot water, or are there other uses? Do you have communal BBQ's or heating? Do all these items run off a single supply?
Once you understand all these elements, you can then work on understanding where each solution is at in its lifecycle, and this will help you look at a timeline to prepare a changeover.
Lastly, electrification will have an impact on the electrical load in your building. Unlike EV Charging, which can be regulated according to available demand, centralised heat pump solutions have to work when needed, so looking at solar, storage and other energy efficiency opportunities is important in your planning.
If your centralised gas hot water solution is metered by apartment and billed to residents by a third party, Active is happy to discuss how we can help you here with finance and billing solutions.
This process can seem overwhelming, so it helps to have a neutral partner like Active to support you through this process. We're actively engaged in doing this with our customers already, so if exploring this is of interest to your buildings, get in touch with us at sales@activeutilities.com. au and we will help you get to where you want to be.