Strata Communities — Who, Where and Why?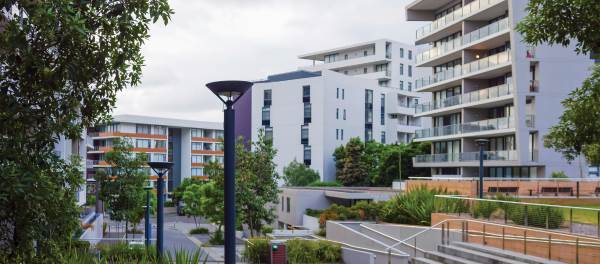 Our strata industry continues to grow and evolve, as more Australians choose to own or live in high-density communities.
This is due to population growth, the conversion of existing buildings to strata title, new developments and government policies promoting urban consolidation (building up, not out).
According to the Australasian Strata Insights 2022 Report1, more than four million people live in strata communities (2.5 million in apartments and 1.5 million in other dwellings). This represents 16% of Australia's population.
Since the last report in 2020, there have been some significant changes.
• Rise in the proportion of people living in strata from 1 in 10 to 1 in 6.
• Growth of more than 16,000 new strata schemes.
Almost half of all strata schemes have now been registered since 2000.
• Increase in the insured value from $1.1 trillion to over $1.3 trillion.
All this occurred during the pandemic when our international borders were closed, construction material costs soared and resources were limited.
Implications for our strata ecosystem
High-density living is becoming more popular as people choose to live close to our cities' transport, entertainment and cultural hubs. So, let's look at the new demographic data in more detail.
• Less than half of all apartment residents were born in Australia.
• More apartments are rented than are owner-occupied.
• Almost half of all residents are aged 20-39 years.
• 64% of apartments are occupied by a single person or a couple with no children.
The use of strata title in medium and high-density developments is being fuelled by the Australian dream of owning your own home. Affordability issues have stalled this dream for many, so people are looking to strata living as an easier entry point into the housing market or as a reasonably priced option for downsizers.
The unique characteristics of strata living
Don't underestimate the importance of data as a powerful enabler in helping us understand trends going forward and ensuring we can offer quality advice and valuable services to strata committees.
The findings highlight a couple of key things we need to consider when liaising with strata committees.
Age
Given the younger demographic of occupants, we need to understand the best way to engage with them and how frequently. Importantly, strata managers must have the right tools and information to communicate effectively.
Language
With more than half of all residents descending from a country other than Australia, English may not be their first language. However, many of the topics we present to them are complex and fraught with jargon, which could be a barrier.
Explaining insurance in plain English
Insurance premiums are on an upward trajectory following a catastrophic period of natural disasters, with floods, bushfires, and cyclones. Insurers are re-evaluating their overall risk exposure and require more information from committees about a property's known risks before offering renewal terms.
We need to explain this to committees, so they understand why insurance has increased.
• All strata schemes can expect a premium increase, even those that are claims-free.
• Since 2019, 11 catastrophes have been declared, leading to $13 billion in claims.2
• Some businesses have stopped trading, with fewer specialty strata insurers now in the market.
• Inflation, labour shortages and delays in the supply of materials have led to higher rebuild costs and claims costs.
The need to manage emerging trends
Electric vehicles
With a younger population living in strata, the popularity of electric vehicles is likely to be a hotly debated topic. Strata communities must manage the increased demand for charging infrastructure and power consumption.
Managing weather risks
Committees have a responsibility to ensure the safety of their residents. With the increasing number and ferocity of severe weather events, strata communities must address the risks these present to their property. It's also a good way to keep insurance premiums at a manageable level.
Planning and budgeting
Australia's current high level of inflation has increased prices for goods and services. Higher maintenance and utility bills mean higher operating costs for strata schemes. It can also make it difficult for body corporates to plan and budget for future expenses. Residents may need to prepare for increased quarterly levies or special levies to raise funds.
We hope the emergence of younger residents on committees will promote a more proactive approach to future-proofing the financial stability of strata schemes.
Where to from here?
As population growth and urban consolidation continue, strata communities will be a key part of ongoing urban development.
Everyone within the strata ecosystem has a role to play in helping those communities feel supported and protected by whatever mother nature and the global economic environment has in store!
1 Hazel Easthope, Danielle Hynes, Yi Lu, Reg Wade, Australasian Strata Insights 2022, City Futures Research Centre, UNSW, cityfutures.ada.unsw.edu.au/2022-australasian-strata-insights
2 Insurance Council of Australia, Insurance Catastrophe Resilience Report 2021–22, insurancecouncil.com.au/resource/insurance-catastrophe-resilience-report-2021-22