COVID-19, CCTV, and Security
The next few months over the Christmas/New Year break are always difficult ones in the strata sector for a couple of core reasons. Firstly, many people are away on holidays and that leaves strata buildings open to theft and security issues. Secondly, for many people it's "party time" and we have seen many instances where apartments, units, and common areas are effectively turned into party houses with owners having little recourse for claiming damages if their property is left in a mess.
There are many security measures that strata managers and owners can take and one of the most popular is Closed-Circuit Television (CCTV).
Additionally, as Australia grapples with the new COVID-19 variant, Omicron, which recently reached our shores, a further surge in security measures is expected.
There are many factors to consider if strata managers or private lot owners intend to install security devices, such as CCTV, in strata buildings. Of greatest concern is respecting the privacy of other building residents.
Various laws in each state impact the installation of CCTV and other security devices in strata buildings, but the binding Commonwealth legislation is the Privacy Act.
While laws relating to owners and CCTV are relatively simple, those relating to strata managers are comparatively more complex. In this article, I explain these in more detail. Before I delve in, let's look at the current COVID-19 situation in the lead up to Christmas.
COVID-19 & Strata
The pandemic has disrupted life as we once knew it. For close to two years, the new normal has introduced a range of public health measures into our lives – from lockdowns to vaccines.
We've seen the rise, and in some cases demise, of numerous strains of the COVID-19 virus, with the most recent, and most concerning, the Omicron variant.
Now that we're in the month of December, most of us are looking forward to spending time with loved ones over the holidays. Sadly, we may not receive the Christmas cheer we're hoping for. The growing number of cases likely means a return to lockdowns, banned flights, and closed borders.
With an estimated 1.2million Australians residing in strata communities, the new normal of spending more time at home for work and for play means one of the likely ramifications of COVID-19 will be more demand to improve building security.
If you're looking to install security devices, such as CCTV, in your strata building, consider the following for owners and strata managers.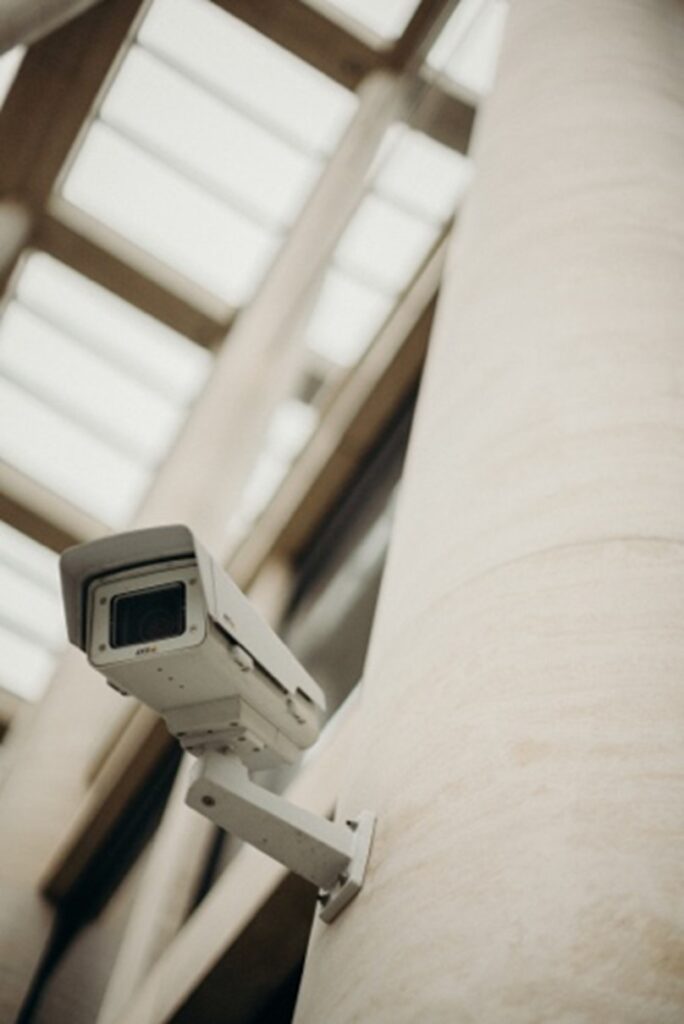 Installing CCTV in Private Lots
The first step for owners is to check with your strata committee and strata manager to ensure you have approval to proceed. You should also be fully informed of any by-laws which relate to building security and that may apply to your property.
If approved for installation, CCTV cameras should be positioned so as not to infringe upon the provisions of the Privacy Act. Cameras must not face questionable areas, such as bedrooms or bathrooms in other lots, or common areas like building swimming pools, saunas, and spas.
Lastly, the CCTV footage itself should only be viewed by the owner personally and handled appropriately to protect the privacy of other building residents. It's common sense, really.
Installing CCTV in Common Areas
For CCTV in strata buildings, there are a few more complexities. The most frequently asked question faced by strata managers is "Who owns the actual footage taken by the CCTV or security camera?".
Generally, the strata scheme has ownership of the footage and owners can apply to the strata committee or strata manager to view the footage if required.
Strata committees and strata managers share the same responsibility as owners in that they should not reproduce or forward footage except in special circumstances, such as a request by authorities.
It is also your responsibility to advise owners of their rights and responsibilities when it comes to CCTV and other security devices, including:
– CCTV footage should apply to their property only
– Footage should not be reproduced or forwarded to others, including uploading to social media
– Cameras and listening devices should not be aimed at common areas
With Christmas coming, security devices may be a reasonable precaution in the face of common problems during the festive season, such as illegal parking, mailbox burglary, and unruly parties.
It is for these reasons, as well as COVID-19, that I anticipate many owners will make the decision to purchase security equipment without realising their obligations before installation.
Strata committees and strata managers may find it useful to go on the front foot and inform owners now of the correct procedure to follow if they're considering enhancing their property's security.
This information is intended to provide a general summary only and should not be relied on as a substitute for legal advice.